Aku ada terbaca dalam Urban Savior pasal satu projek yang sangat menarik; The Burning House. Ia adalah untuk menjawab satu soalan yang sangat ringkas.

" Jika rumah anda terbakar, apa yang anda akan bawa bersama anda?".

Masa kecik-kecik ada jugak aku terpikir pasal menda ni. Ia merupakan konflik antara keperluan selepas ini, nilai sentimental dan berharga. Susah gak la nak pilih kalau kena pilih antara tiga tu. Anda boleh menghantar gambar anda di
theburninghouse dot com.
Bagi aku projek ni sangat la kreatif and it plays with your mind. These are some of the subissions. Check it out.
Sarah Neuendorf
Name: Sarah
Age: 22
Location: Berlin
Occupation: Student (Design)
Website: http://gretasschwester.wordpress.com/
Miguel A.
Name: Miguel A.
Age: 23
Location: Barcelona
Occupation: Architecture Student
Website: miguelangelaguilo.tumblr.com
Pierre Colleu Jr.
Name: Pierre Colleu Jr.
Age: 24
Location: Paris, France
Occupation: unemployed
Website: www.pendejjjo.com
Manifes
Name: Manifes
Age: 27
Location: Tehran, Iran
Occupation: Jerk
Johanna Nyberg
Name: Johanna Nyberg
Age: 19
Location: Uppsala
Occupation: Art student
Website:http://johannaochjennifer.webblogg.se/
Jeremy Zini
Name: Jeremy Zini
Age: 30
Location: Brooklyn, NY
Occupation: Artist
Website: www.jeremyzini.com
Aleš Moravec
Name:Aleš Moravec
Age: 20
Location: Prague, Czech Republic
Student: student Architecture and Design.
dan aku punya
Naqib Faiz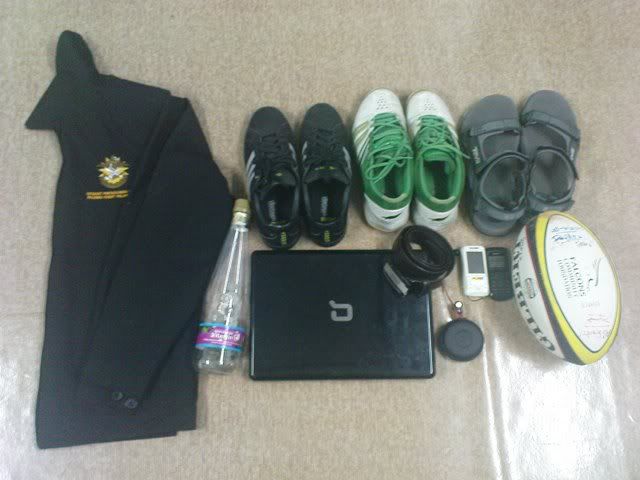 Name: Naqib Faiz
Age: 20
Location: Gebeng, Pahang
Occupation: Servant
Website: blackmikimiki.blogspot.com
My list:
Jacket given by Nina
Tabung syiling
Compaq CQ40
Adidas sneaker
Adidas CC Genius tennis shoe

Teva Tanza sandal
Nobleman belt given by Ae
Monster Beats Dr Dre earphone
Sony Ericsson W850i
Nokia 1110
Gilbert rugby ball just bought today
So, what's yours? Hahaha
p/s:
nina, happy birthday! ni entri sempena birthday ko. sebab ada nama ko dalam ni. haha